HAVE YOU BEEN ACCUSED OF:
Federal, Criminal, & Immigration Defense
Criminal lawyers stress that federal authorities have a lot of leeway in deporting or making an immigrant inadmissible when associated with a crime, even if not convicted in court. Criminal attorneys working regularly on federal matters and state and federal criminal cases know how important it is to win your case if you want to stay in the US or have the leisure of returning if you were to leave. Even legal green card holders are up against the same federal immigration regulations regarding deportation and inadmissibility.
There are certain types of crimes that make a non-citizen or immigrant inadmissible. There is another list of crimes making a non-citizen deportable. Generally speaking, "deportable" crimes are more serious in nature, but do include some crimes also listed for inadmissibility status. Federal deportation is a grave matter having devastating life consequences to the person being deported and their loved ones in the U.S. In short, deportation is a lasting nightmare and it can happen to any immigrant.

TOP DEFENSE FOR IMMIGRANT'S CRIMINAL AND FEDERAL MATTERS
Criminal lawyers know even a small mistake can lead to an immigrant not being able to return to the U.S., even if a green card is in possession. That is exactly why criminal attorneys from LibertyBell Law Group fight hard for you, your rights and your stay in the U.S.
It is vital to be represented by LibertyBell Law Group's best federal and criminal lawyers, as deportation is definite. Federal and immigration authorities do not care how many years you've been in the U.S., if you have family here, own a business, or even if you have children that are U.S. citizens.
Federal immigration authorities deem these crimes as deportable:
Aggravated Felonies
Drug Offenses
Firearms Offenses
Domestic Violence
Crimes of Moral Turpitude (CMT)
Aggravated felonies will cause a non-citizen to be deported, ineligible to receive asylum, and lose any eligibility for a U.S. visa or green card. If the immigrant has a green card or visa, s/he will lose it. Criminal lawyers know the term "aggravated felony" in federal and immigration law can be different from individual state laws. A state court conviction can be interpreted as an aggravated felony even if the state does not classify it as such. Some non-violent crimes seemingly minor and not called a felony in that state may be regarded as an aggravated felony by federal immigration authorities.
FEDERAL IMMIGRATION AGGRAVATED FELONIES
Fraud (over $10,000)
Tax Evasion (over $10,000)
Theft (sentence of one year or more)
Violent Crime (sentence of one year or more)
Firearms and Destructive Devices Offenses
Prostitution
Child Pornography Offense
Rape and other Sex Crimes
Human Trafficking
Alien Smuggling
Trafficking of Vehicles (sentence of one year or more)
Money Laundering (over $10,000)
Counterfeiting and Forgery
Racketeering (RICO) & Gambling (sentence of one year or more)
Obstruction of Justice
Perjury
Bribery of Witness
Spying, treason, or sabotage
Attempt or conspiracy to commit an aggravated felony
An offense does not have to be "aggravated" nor does it have to be a "felony" to be defined as an "aggravated felony" to immigration and federal agents. LibertyBell Law Group's federal lawyers have noted that even non-violent ordinary misdemeanors have been labeled as aggravated felonies by immigration judges recently.
Furthermore, if a non-citizen is convicted of an aggravated felony, as defined by immigration laws, s/he may be deported from the U.S. without a formal hearing in front of an immigration judge. This can make it very difficult for a non-citizen to be eligible for asylum, other relief, or appeal. At this point only a top federal defense attorney, such as those from LibertyBell Law Group, may be able to intervene in immigration proceedings but it would be extremely difficult and definitely impossible after deportation. A non-citizen convicted of an immigration interpretation of an aggravated felony can be physically removed two weeks after the court order.
If you are a legal green card holder or illegal immigrant, it cannot be stressed enough how imperative it is to be represented by a criminal lawyer with experience in both state and federal courts. Regardless of the crime, even if it seems like a trivial misdemeanor, it is vital you get the best counsel from a criminal and immigration lawyer who can get you the best result and who has a reputation for getting cases dismissed. Check for los angeles federal criminal defense attorney.
Consequences of an Immigration Aggravated Felony
Deportation without a Removal Hearing
Mandatory Unreviewable Detention after release from criminal custody (jail or prison). To be released you need a federal criminal lawyer to prove to the immigration judge that the crime you were convicted of is not an aggravated felony as defined by immigration laws.
Not eligible for Asylum
Not eligible for Cancellation of Removal
Not eligible for Voluntary Departure
Not eligible for certain Waivers of Inadmissibility
Permanently barred from future admission into the U.S.
Enhanced Penalties if found illegally reentering the U.S. The punishment for someone who was previously convicted of an Immigration aggravated felony and subsequently deported may be up to 20 years in prison.
Non-citizen immigrants convicted of an "aggravated felony" by terms defined by immigration are up against the most stringent penalties. It is also important to know that Congress never subtracts from their list of aggravated felonies for immigration, but rather the federal government has a history of constantly making it longer.
An immigrant could be deported even if plead to a misdemeanor and served no jail time.
Los Angeles Criminal Immigration Lawyer
Criminal lawyers from LibertyBell Law Group work as a part of a federal and immigration team. They know how to argue your best case and minimize or terminate immigration consequences. It is best to hire our criminal lawyers either during an investigation or right after an arrest so they can work on preventing charges from being filed or at least lessen the charges filed. If charges have already been filed, it is in your best interest to hire federal criminal court lawyers as soon as possible as the earlier the better. LibertyBell Law Group's criminal lawyers hired early on are better able to hinder the investigation, stay steps ahead of the prosecution and can completely change the course of the case for the top outcome.
If your case is in a later stage, do not give up. Our criminal lawyers can work hard and have a reputation for creative and ingenious plea bargains and wins. Do not wait until the last minute to hire a criminal lawyer as your chances of getting a great result diminish as time passes and the prosecution is building its case against you.
STATE AND FEDERAL COURT DEFENSE AGAINST CRIMES OF MORAL TURPITUDE
Crimes of moral turpitude can cause someone to be deported or inadmissible. Either way, the effects can be vastly destructive to a non-citizen. Being "inadmissible" for an immigrant means that if you leave you will not be able to reenter the U.S. under any circumstances. Inadmissibility also means that a non-citizen cannot apply or receive U.S. citizenship or a green card (a permanent resident card).
Even if a non-citizen was not convicted of a crime of moral turpitude, s/he may become "inadmissible" by federal standards. Admitting to a crime in some way such as in a biography, newspaper, or online social media such as Facebook, may also make a non-citizen "inadmissible," if found out by federal immigration court. Criminal lawyers know a non-citizen, even someone with a green card, does not have to be convicted of a crime to become inadmissible. There is only one exception to federal laws regarding inadmissibility but it has 3 requirements.
Exception to Inadmissibility must meet the following:
Only one conviction of a crime of moral turpitude exists
The maximum penalty for the crime is not over one year
Immigrant was actually sentenced to 6 months or less in jail
Our criminal and federal lawyers advise you to avoid severe criminal convictions and get the best legal representation as federal immigration laws are always changing and may change in the future. Immigrants should always hire the best criminal lawyers to get the least possible sentence or get the case dismissed or not filed to avoid future consequences of new immigration laws. Even if immigration laws were relaxed years ago when you were convicted or charged with a crime, when applying for a green card or citizenship today you will be subject to today's federal and immigration laws.
IMMIGRATION HOLD AND DETENTION
As soon as you are arrested for suspicion of a crime, if you do not have proper identification with you, you may be placed on an immigration hold. An immigration hold, sometimes called detention, is severe as it can lead to deportation even if you are found innocent of any crime. As soon as you or your loved one has been arrested it is of upmost importance you hire a criminal and federal lawyer from LibertyBell Law Group as soon as possible, before 48 hours after the arrest. A criminal lawyer may be able to get the non-citizen out of jail on bond and prevent an immigration check and thus deportation. It is best for a LibertyBell Law Group criminal lawyer to get the non-citizen out of jail immediately following an arrest.
POST-CONVICTION RELIEF FOR IMMIGRANTS
If, as an immigrant, you have been convicted of an aggravated felony or a crime of moral turpitude and have not yet been physically deported, you may be eligible for post-conviction relief. A motion to vacate a conviction based on ineffective assistance of counsel can be sought by our criminal attorneys. A motion to vacate may also be sought by our criminal lawyers if you were not counseled by your attorney on immigration or naturalization consequences of pleading guilty. Our criminal attorneys can also do other types of post-conviction relief, such as reduce a felony to misdemeanor or resentencing so as not to suffer immigration penalties.
Get the nation's top minds of criminal and federal defense lawyers to work for you. We truly care about you, your stay in the U.S., and your freedom.
Our veteran federal criminal lawyers have all of the resources to get the best possible results for you. Our powerful team of criminal lawyers is available and affordable.
LEARN MORE ABOUT OUR FEDERAL DEFENSE ATTORNEYS.
CALL OUR CRIMINAL LAWYERS NOW
Now you can draw on the combined talents and resources of a large defense law firm. We stand ready to defend you in state, federal, and immigration courts.
Don't wait. Call 855-LAW-PRO1 (855-529-7761) now for a free consultation with one of our criminal and federal attorneys. Early intervention is the key to your freedom and success.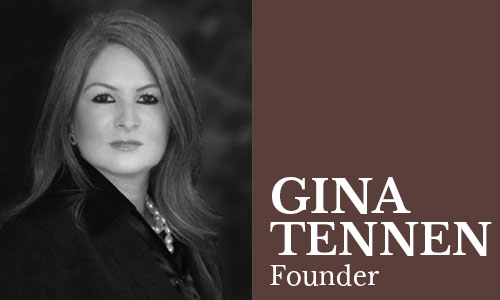 Gina Tennen
Founder
At A Glance
Expert legal strategist.
Experienced in both prosecution and defense.
Relentless fighter for her clients with results to prove it.
Received the National Top 100 Trial Lawyers Award
Featured in Time Magazine's "Leaders of Criminal Defense" in the 100 Most Influential People edition.
Executive Managing Attorney Gina Tennen is a renowned leading advocate of personal liberties. Her meticulous trial preparation and exceptional ability to pursue every possible defense has earned her the admiration of clients and respect from prosecutors, judges, and other criminal attorneys all over the nation.
Lawyer Tennen began her career as a Senior Law Clerk for one of the toughest District Attorney's offices in the country where she gained remarkable experience in juvenile crimes, elder abuse, parole hearings, child abuse, sex and other serious crimes. Her experience at the District Attorney's Office armed her knowledge and case strategy in exploiting the other side's weaknesses for the client's advantage and building a rock solid defense. Criminal attorney Tennen's experience on both sides and brilliant maneuvering throughout is evidenced in her winning track record. In fact, even before earning her law degree, she was instrumental in getting excellent results on several criminal cases outshining her peers.
A consummate strategist and top criminal attorney, lawyer Tennen works tirelessly on many high profile criminal cases. She is known as a relentless fighter who never gives up on any case. Whether the case is hers or handled by another criminal defense attorney from LibertyBell Law Group, no matter how small the case may seem she asserts that every client deserves the right to the best legal representation.
It is her deep belief and what she has built her entire career and lifelong dedication to that there is always hope for every client and every avenue should be pursued regardless of the time and energy it takes. For criminal attorney, Gina Tennen, devoting the finest criminal defense for clients is a habit and talent that you must apply and do all the time.
You demand the best defense. Take hold of your life and speak to our defense attorneys by calling 855-LAW-PRO1 (855-529-7761) now.
Founder Gina Tennen and all the defense attorneys at LibertyBell Law Group uphold that when the bell rings, it rings for life and liberty for all.
REQUEST A FREE CONSULTATION
Gina was like a lioness protecting her cub.

    

I hired Gina and her team for my son who was facing 10 years for something they said he did when he was 17 years old. Gina was like a lioness protecting her cub. She did not stop. She fought hard and was able to defend the charges. We are so grateful to her and her team. They gave us our son. He recovered his life!
Best defense lawyers in the country.

    

I hired this law firm in 2014 for my son who was facing 16 years in prison for a felony robbery. Lina Helou answered all our questions. I was extremely distraught regarding what my son was facing but Lina comforted me and told me that it would be okay. And thank goodness LibertyBell saved my son from going to jail and they were able to obtain only 3 years of probation. I could not have hired a better law firm for my son and if you want the best defense call LibertyBell Law Group. Thank God for this great group of lawyers.
A great team of lawyers.

    

I do not have enough words to describe how incredible the experience with this firm was. They work very hard to make sure you have winning results. I could not have asked for better service from the moment I called, until my case was over. I was glad I made the right choice. Thank you again LibertyBell Law Group!
She took her time to review all of my evidence and proved my innocence.

    

My father had found this group through his company and coworkers. I was assigned Gina Tennen and I cannot explain in just a review on how gratefull I am to be working with her. My case was an accusation of unlawful sex. This had looked extremely bad on my part since I was in a fraternity and she was in a sorority. During these times with Greek life, there are too many bad stigmas surrounding these organizations. Gina had believed in me and knew that I was innocent and that these accusations just were not true. She took her time to review all of my evidence and proved my innocence. I totally recommend this law group because they are willing to put in the work to help your situation.
Gina always kept me fully aware of how the case was proceeding.

    

When I first heard I was under a criminal investigation, I initially thought I would try and resolve this in the best way possible, without legal representation, as we were all interested in a "just" outcome. I quickly discovered that was not the case and contacted Gina at Liberty Bell. She clearly described the expectations and the choices available to me. She was always available to me, and when I called, if she couldn't talk with me at that time, she would quickly get back to me. Gina always kept me fully aware of how the case was proceeding. Her fee's were stipulated up front, as well as what those fees covered and what they did not.
Attorney Gina Tennen was on point from day one.

    

Attorney Gina Tennen was on point from day one putting pressure on the sherrif's office to get things handled. With Child molestation accusatinos being thrown around Gina and Attorney Castro were great at keeping the pressure on and had no charges filled. The DCFS indications were appealed and we won with flying colors. Great service, great work, and will use again for all legal matters.
Will Recommend, Total Experience, Awesome Team

    

Being involved in legal matters can be scary. When researching who to put my trust in, I came across Liberty and I am glad that I did. From the first time that I met with Gina and her team she made me feel comfortable and listened to all that I had to say. She assured me that her team would be on it and that they would do everything that they could! A little while in, Alan took over my case. When meeting with him you can tell that this is his passion and I immediately knew he was going to do everything in his power to make the outcome right! He was relentless and worked day and night working on the case. He kept in constant communication with me and truly cared not only about me but about my family as well. I am forever grateful for the support that this whole team has given me and would definitely recommend them to anyone who is looking for truly the best lawyers!