HAVE YOU BEEN ACCUSED OF:
Early Release for Federal Prisoners
A new 2014 law allows all federal prisoners convicted of drug offenses to apply for an early release from prison. The new law, called Amendment 782 also known as "Drugs Minus Two," will make over 46,000 federal inmates eligible for an early release from prison by way of a sentence reduction. However, each inmate must be evaluated by a judge to determine if the prisoner should be released early. In order for a judge to consider if a prisoner should have his/her sentence reduced, legal documents must be written, organized and filed in an appropriate manner expected by the courts.
Approvals for early release program for inmates from prison will not happen to everyone or automatically, the judge must be persuaded to give a retroactive sentence reduction.
If you know someone in prison who may qualify for early release or another type of post-conviction relief, type in the details of your legal matter in the form located on the lower right and our top Los Angeles criminal defense attorney will comb over it and review it. Check more about the top criminal federal defense firm.
AMENDMENT 782 – "DRUGS MINUS TWO"
Amendment 782 reduces federal drug sentencing guidelines and will be effective on November 1, 2014. To those granted retroactively, federal drug trafficking and other controlled substance offenders will have an average sentence reduction of 25 months, or 19%.
No prisoners will be released early until November 1, 2015, though the judge can grant a sentence reduction before that day. The purpose of the year-long delay is two-fold. The first is to allow for the time necessary for lawyers to file the legal documents for the prisoners and present their case to the judge. The second reason is to put in effect transitional services provided for federal inmates approved for early release increasing successful reentry into society.
If a prosecutor objects to a prisoner's sentence reduction, you need an aggressive and experienced top lawyer to argue on behalf of the inmate to win over the judge. LibertyBell Law Group's federal and criminal attorneys are well-known as being top performers in court by their peers and by judges. The lawyers have a very high success rate at winning cases and getting the best results and have been featured in Newsweek and Time Magazine.
If you are a prisoner convicted of a federal drug offense or know someone who is, find out what needs to be done to get an early release from prison and speak to the best federal defense attorney and call 855-LAW-PRO1 (855-529-7761). See more top criminal attorneys in los angeles.
Factors Considered for Early Release of a Prisoner
There are many factors a judge will consider when evaluating federal prisoners for a sentence reduction. The case itself is an obvious factor, but legislators have made it clear it is not the only factor. The criminal history, conduct in prison and more are aspects judges will be combing over carefully in determining whether or not an inmate's sentence should be reduced.
Lawyers know that applying for an early release from prison for a federal drug sentencing conviction is not cut and dry or easy. It is akin to re-arguing a case over…
As in any court matter, the best lawyers having the most experience and extensive resources to present a federal prisoner in the best light will be the most convincing to a judge and have success in getting approvals for "Drugs Minus Two." LibertyBell Law Group's lawyers have all encompassing experience in federal drug trafficking, federal defense, and have had great results in post-conviction relief.

Los Angeles Inmate Lawyers
Lawyers know that applying for an early release from prison for a federal drug sentencing conviction is not cut and dry or easy. It is akin to re-arguing a case over and showing other aspects of the prisoner's life to prove to the judge that retroactive sentencing should be applied to that federal inmate. You may also check sexual crime attorney.
Applying for Early Release of a Federal Inmate
Since there are thousands of federal inmates applying for an early release, it is important for a prisoner to hire a lawyer with expertise in federal courts, drug trafficking, and post-conviction relief to make the best case and file as quickly as possible. Otherwise, who knows when a federal inmate will be considered if there are, for instance, 10,000 other prisoners who filed for an Amendment 782 sentence reduction beforehand. Know that judges will be evaluating "Drugs Minus Two" cases on a first-come, first-serve basis.
A federal inmate will want to hire a lawyer to investigate his case, conduct in prison, and other life circumstances to find evidence in developing a narrative that compels the judge to grant an early release. Ideally, you should hire a lawyer as early as possible as it takes expertise, hard work, and time to prepare and file a prisoner's legal documents on November 1, 2014, which is the first day any lawyer is allowed to file legal documents to be considered for Amendment 782 retroactively.
WHICH PRISONERS SERVING FEDERAL DRUG SENTENCES ARE ELIGIBLE?
It is best to have a criminal lawyer evaluate a prisoner's case and other relevant legal records to see if the federal inmate meets the minimum qualifications of "Drugs Minus Two." LibertyBell Law Group's criminal lawyers are conducting evaluations and if an inmate meets the minimum criteria then proceeding in court is the next step.
There are always exceptions to the rules, and the best lawyers know how to argue creatively and present evidence that sways the judge in favor of an early release for the prisoner.
LEARN MORE ABOUT OUR CRIMINAL ATTORNEYS.
CALL OUR CRIMINAL LAWYERS NOW
Now you can draw on the combined talents and resources of a large defense firm with one goal — getting the best case ending for you. Our top lawyers stand ready to defend you both inside and outside the court room.
Early intervention is the key to our mutual success. Don't wait. Call 855-LAW-PRO1 (855-529-7761) now for a free consultation with one of our criminal lawyers.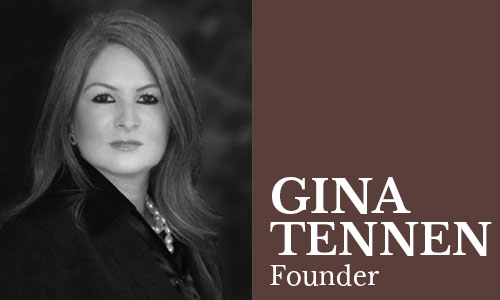 Gina Tennen
Founder
At A Glance
Expert legal strategist.
Experienced in both prosecution and defense.
Relentless fighter for her clients with results to prove it.
Received the National Top 100 Trial Lawyers Award
Featured in Time Magazine's "Leaders of Criminal Defense" in the 100 Most Influential People edition.
Executive Managing Attorney Gina Tennen is a renowned leading advocate of personal liberties. Her meticulous trial preparation and exceptional ability to pursue every possible defense has earned her the admiration of clients and respect from prosecutors, judges, and other criminal attorneys all over the nation.
Lawyer Tennen began her career as a Senior Law Clerk for one of the toughest District Attorney's offices in the country where she gained remarkable experience in juvenile crimes, elder abuse, parole hearings, child abuse, sex and other serious crimes. Her experience at the District Attorney's Office armed her knowledge and case strategy in exploiting the other side's weaknesses for the client's advantage and building a rock solid defense. Criminal attorney Tennen's experience on both sides and brilliant maneuvering throughout is evidenced in her winning track record. In fact, even before earning her law degree, she was instrumental in getting excellent results on several criminal cases outshining her peers.
A consummate strategist and top criminal attorney, lawyer Tennen works tirelessly on many high profile criminal cases. She is known as a relentless fighter who never gives up on any case. Whether the case is hers or handled by another criminal defense attorney from LibertyBell Law Group, no matter how small the case may seem she asserts that every client deserves the right to the best legal representation.
It is her deep belief and what she has built her entire career and lifelong dedication to that there is always hope for every client and every avenue should be pursued regardless of the time and energy it takes. For criminal attorney, Gina Tennen, devoting the finest criminal defense for clients is a habit and talent that you must apply and do all the time.
You demand the best defense. Take hold of your life and speak to our defense attorneys by calling 855-LAW-PRO1 (855-529-7761) now.
Founder Gina Tennen and all the defense attorneys at LibertyBell Law Group uphold that when the bell rings, it rings for life and liberty for all.
REQUEST A FREE CONSULTATION
Gina was like a lioness protecting her cub.

    

I hired Gina and her team for my son who was facing 10 years for something they said he did when he was 17 years old. Gina was like a lioness protecting her cub. She did not stop. She fought hard and was able to defend the charges. We are so grateful to her and her team. They gave us our son. He recovered his life!
Best defense lawyers in the country.

    

I hired this law firm in 2014 for my son who was facing 16 years in prison for a felony robbery. Lina Helou answered all our questions. I was extremely distraught regarding what my son was facing but Lina comforted me and told me that it would be okay. And thank goodness LibertyBell saved my son from going to jail and they were able to obtain only 3 years of probation. I could not have hired a better law firm for my son and if you want the best defense call LibertyBell Law Group. Thank God for this great group of lawyers.
A great team of lawyers.

    

I do not have enough words to describe how incredible the experience with this firm was. They work very hard to make sure you have winning results. I could not have asked for better service from the moment I called, until my case was over. I was glad I made the right choice. Thank you again LibertyBell Law Group!
She took her time to review all of my evidence and proved my innocence.

    

My father had found this group through his company and coworkers. I was assigned Gina Tennen and I cannot explain in just a review on how gratefull I am to be working with her. My case was an accusation of unlawful sex. This had looked extremely bad on my part since I was in a fraternity and she was in a sorority. During these times with Greek life, there are too many bad stigmas surrounding these organizations. Gina had believed in me and knew that I was innocent and that these accusations just were not true. She took her time to review all of my evidence and proved my innocence. I totally recommend this law group because they are willing to put in the work to help your situation.
Gina always kept me fully aware of how the case was proceeding.

    

When I first heard I was under a criminal investigation, I initially thought I would try and resolve this in the best way possible, without legal representation, as we were all interested in a "just" outcome. I quickly discovered that was not the case and contacted Gina at Liberty Bell. She clearly described the expectations and the choices available to me. She was always available to me, and when I called, if she couldn't talk with me at that time, she would quickly get back to me. Gina always kept me fully aware of how the case was proceeding. Her fee's were stipulated up front, as well as what those fees covered and what they did not.
Attorney Gina Tennen was on point from day one.

    

Attorney Gina Tennen was on point from day one putting pressure on the sherrif's office to get things handled. With Child molestation accusatinos being thrown around Gina and Attorney Castro were great at keeping the pressure on and had no charges filled. The DCFS indications were appealed and we won with flying colors. Great service, great work, and will use again for all legal matters.