IF YOU HAVE BEEN ACCUSED OF:
SEX CRIMES IN CALIFORNIA
The mere accusation of a sex offense can have a devastating effect on your life, including serious damage to your reputation, career and personal relationships. If convicted, you may face a lifetime record as a sex offender and suffer severe criminal penalties. A conviction can follow you for the rest of your life, and convictions can occur even when the only evidence is the victim's word. Even a casual comment by a child, a complaint by a student, a doctor-patient relationship that has gone awry or a difficult divorce can lead to possible charges related to sex. It is only you and your sex crime defense attorney who can turn the case in your favor. That is why an investigation of a sexual crime in Los Angeles must be taken seriously and defended aggressively. Due to the current political situation, there is a national effort to pursue sexual predators. The government has spent a lot of time and money to carry out covert operations, and the media and prosecutors are playing with people's fear.
RECENT WINS IN SEX CRIME CASES
An artist who is an expert on children's tattoos was charged with 2 counts of child sexual abuse at the hotel where he worked. The client faced a life sentence in prison. After substantial work by our team, including experts and other defense resources, we were able to negotiate and obtain a surprising result of parole and immediate release from prison. Decorated Officer of the Air Force accused of rape! The client faced 30 years in prison and would have been registered as a sex offender. Our client would have lost everything from a distinguished 20-year career in the military to all benefits and any future work. You could even be limited to where you live. Our team of rape defense attorneys created a solid and aggressive defense, with experts and private investigators, along with other critical resources to prove the innocence of our client. We took the case to trial and won! It was declared NOT guilty on all accounts!
TRUSTED SEX CRIME LAWYER – TOP RATED SEX CRIME DEFENSE ATTORNEY
Trials for sexual offenses are usually cases of "he said, she said" in which the jury must decide between the word of the victim-defendants. The accusations are made even more complex when they involve children, who are highly impressionable. Before considering a guilty plea, make sure you fully understand all the consequences of a sexual conviction, including the public record of sex offenders throughout life.
In general, there is no plea agreement acceptable for most sexual offenses, due to the lifetime registration of sex offenders. These charges must be combated with an overwhelming legal defense team of the best attorneys with experience in this specific area. Learn more about the best criminal defense attorney from los angeles.
Defense Strategy
Defending sexual offenses is different from other types of cases and requires very specific techniques and the experience of the best lawyers. An effective team of sex crime defense attorneys often employ psychologists, forensic computer experts, private investigators with the ability to use these tools in an effective manner. A defense strategy may consist in denying the alleged sexual act or that the sexual act did not involve the accused. DNA and other forensic evidence can be used to support this defense. Another strategy is to argue that the act was consensual. This requires qualified argumentation from your Los Angeles sex crime defense attorney and may depend especially on the use of psychologists, witnesses, and specialized private investigation services. See more federal lawyers in los angeles.
The most common sex crimes or charges
:
Violation
Date Rape
Sexual Assault
Child Pornography
Lewd and Lascivious Behavior
Child Seduction / Instigation
Sexual Abuse / Child Abuse
Rape
Obscenity
Failure to update or register as a sex offender
Get the Best Defense from California's Top Criminal Defense Attorneys
LibertyBell Law Group was founded by criminal defense attorneys who have a history of creating the best arguments and winning cases. Our lawyers are aware of the fact that thousands of people still suffer life-altering consequences because they do not have the possibility of employing an adequate defense. Our lawyers came together to level the playing field. Our attorneys have extensive experience in delicate, sensitive, and highly challenging cases. Our attorneys are legal veterans with all the resources they need to get the best results for our clients.
Child seduction or instigation refers specifically to instances in which an individual who is over the age of 18 who is also a guardian, adoptive parent or grandparent, custodian, stepparent, or childcare worker for a child engages with or solicits a minor for any type of sexual contact.
Child pornography includes any visual depiction of sexual conduct which includes a person who is less than 18 years old. Also referred to as child sex abuse images, child pornography is considered a form of child exploitation and is punished very harshly. It is illegal to produce, distribute, import, receive, or possess child pornography in any form.
"Date rape" refers to unlawful sexual intercourse which occurs doing a social engagement between to individuals. Often, the rapist creates conditions which make the victim more susceptible, such as dosing the victim with drugs (known as drug-facilitated sexual assault or DFSA). Date rape cases can be difficult to prosecute because there is often a relationship between the victim and the rapist.
Each state has laws that require individuals convicted of sex crimes to register with law enforcement. There are rules regarding where sex offenders can live and where they can go in public. For example, many states ban sex offenders from living near schools and playgrounds. Sex offenders who fail to register or abide by state laws can be charged with a crime.
Obscenity refers specifically to the unlawful distribution of materials that are considered obscene. However, what is considered to be obscene varies by state and has changed over time. An individual may be charged with obscenity if they distribute pornographic material in an unsolicited manner, or if they put pornography on public display, for example.
Lewd and lascivious behavior is any type of behavior that is considered crude, offenses, or contrary to moral standards by the general public. Public nudity, exposure of one's genitalia, solicitation for prostitution, displaying pornography in public spaces, and other acts that are considered indecent are forms of lewd and lascivious behavior.
Sexual abuse occurs when an individual forces or coerces anyone into unwanted sexual behavior. An instance of immediate sexual abuse is typically referred to as sexual assault. Child sexual abuse refers to any type of sexual behavior by an adult or older adolescent toward a child. In some instances, this behavior may be prosecuted as statutory rape.
Marital rape, also known as partner rape or spousal rape, refers to nonconsensual sexual intercourse that occurs within the context of a marriage or domestic partnership. Marital rape is also considered a form of domestic violence. Most states, including California, prosecute rape and marital rape in the same way.
Rape is a type of sexual assault. It refers to sexual intercourse that occurs without the consent of at least one of the participants. Examples include when an individual uses physical force, intimidation, threats, or duress to force someone into sexual intercourse, when the victim lacked the capacity or ability to consent, when the victim was unconscious or otherwise unaware that the intercourse was occurring, and when the victim was coerced into intercourse through fraud.
Sexual assault occurs when one person touches another person sexually without their consent, coerces them into unwanted sexual contact, or physically forces them to engage in sexual conduct against their will. It encompasses any type of unwanted sexual contact. Other sex crimes, such as rape, groping, and child sexual abuse are considered forms of sexual assault.
In California, statutory rape occurs when an individual over the age of consent has sexual intercourse or engages in sexual activity with someone who is under the age of consent. "Age of consent" refers to the age an individual can legally consent to sexual acidity. In California, the age of consent is 18.
Get the best legal representation. Trust your case with a top rated sex crime defense lawyer.
CALL OUR SEX CRIME ATTORNEY NOW
As a client, you can now turn to both the talents and the resources of very successful lawyers with a goal of obtaining the best results in your case. Our sex crime defense lawyers are the best and ready to defend you both inside and outside the courtroom. Early intervention is the key to our mutual success. Call our criminal attorneys now at (855) 529-7761 for a free consultation.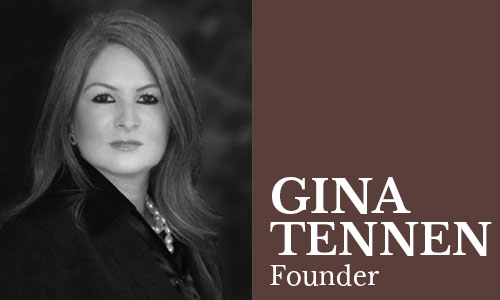 Gina Tennen
Founder
At A Glance
Expert legal strategist.
Experienced in both prosecution and defense.
Relentless fighter for her clients with results to prove it.
Received the National Top 100 Trial Lawyers Award
Featured in Time Magazine's "Leaders of Criminal Defense" in the 100 Most Influential People edition.
Executive Managing Attorney Gina Tennen is a renowned leading advocate of personal liberties. Her meticulous trial preparation and exceptional ability to pursue every possible defense have earned her the admiration of clients and respect from prosecutors, judges, and other criminal lawyers all over the nation. Lawyer Tennen began her career as a Senior Law Clerk for one of the toughest District Attorney's offices in the country where she gained remarkable experience in juvenile crimes, elder abuse, parole hearings, child abuse, sex, and other serious crimes. Her experience at the District Attorney's Office armed her knowledge and case strategy in exploiting the other side's weaknesses for the client's advantage and building a rock solid defense. Criminal attorney Tennen's experience on both sides and brilliant maneuvering throughout is evidenced in her winning track record. In fact, even before earning her law degree, she was instrumental in getting excellent results on several criminal cases outshining her peers. A consummate strategist and top criminal attorney, lawyer Tennen works tirelessly on many high profile criminal cases. She is known as a relentless fighter who never gives up on any case. Whether the case is hers or handled by another criminal defense attorney from LibertyBell Law Group, no matter how small the case may seem she asserts that every client deserves the right to the best legal representation. It is her deep belief and what she has built her entire career and lifelong dedication to that there is always hope for every client and every avenue should be pursued regardless of the time and energy it takes. For criminal attorney, Gina Tennen, devoting the finest criminal defense for clients is a habit and talent that you must apply and do all the time. You demand the best defense. Take hold of your life and speak to our defense attorneys by calling 855-LAW-PRO1 (855-529-7761) now. Founder Gina Tennen and all the defense attorneys at LibertyBell Law Group uphold that when the bell rings, it rings for life and liberty for all.
REQUEST A FREE CONSULTATION
Gina was like a lioness protecting her cub.

    

I hired Gina and her team for my son who was facing 10 years for something they said he did when he was 17 years old. Gina was like a lioness protecting her cub. She did not stop. She fought hard and was able to defend the charges. We are so grateful to her and her team. They gave us our son. He recovered his life!
Best defense lawyers in the country.

    

I hired this law firm in 2014 for my son who was facing 16 years in prison for a felony robbery. Lina Helou answered all our questions. I was extremely distraught regarding what my son was facing but Lina comforted me and told me that it would be okay. And thank goodness LibertyBell saved my son from going to jail and they were able to obtain only 3 years of probation. I could not have hired a better law firm for my son and if you want the best defense call LibertyBell Law Group. Thank God for this great group of lawyers.
A great team of lawyers.

    

I do not have enough words to describe how incredible the experience with this firm was. They work very hard to make sure you have winning results. I could not have asked for better service from the moment I called, until my case was over. I was glad I made the right choice. Thank you again LibertyBell Law Group!
She took her time to review all of my evidence and proved my innocence.

    

My father had found this group through his company and coworkers. I was assigned Gina Tennen and I cannot explain in just a review on how gratefull I am to be working with her. My case was an accusation of unlawful sex. This had looked extremely bad on my part since I was in a fraternity and she was in a sorority. During these times with Greek life, there are too many bad stigmas surrounding these organizations. Gina had believed in me and knew that I was innocent and that these accusations just were not true. She took her time to review all of my evidence and proved my innocence. I totally recommend this law group because they are willing to put in the work to help your situation.
Gina always kept me fully aware of how the case was proceeding.

    

When I first heard I was under a criminal investigation, I initially thought I would try and resolve this in the best way possible, without legal representation, as we were all interested in a "just" outcome. I quickly discovered that was not the case and contacted Gina at Liberty Bell. She clearly described the expectations and the choices available to me. She was always available to me, and when I called, if she couldn't talk with me at that time, she would quickly get back to me. Gina always kept me fully aware of how the case was proceeding. Her fee's were stipulated up front, as well as what those fees covered and what they did not.
Attorney Gina Tennen was on point from day one.

    

Attorney Gina Tennen was on point from day one putting pressure on the sherrif's office to get things handled. With Child molestation accusatinos being thrown around Gina and Attorney Castro were great at keeping the pressure on and had no charges filled. The DCFS indications were appealed and we won with flying colors. Great service, great work, and will use again for all legal matters.