IF YOU HAVE BEEN ACCUSED OF:

FRAUD CRIMES

Attorneys use specific defense techniques depending on the type of fraud and the unique characteristics of the white collar case. The best white collar defense lawyers employ highly skilled strategies and tactics, and know how to develop facts and use witnesses to help your case. Due to the time and specialized skills involved, assembling a successful defense requires a team of criminal lawyers and experts, as opposed to a single lawyer.

Criminal attorneys specializing in white collar defense also have a very thorough understanding of court procedures, rules of evidence, negotiations, witness questioning, and more. Prosecutors don't pursue cases they feel they cannot prove at trial. Therefore, it is essential to dig deeper than the prosecutor and inject reasonable doubt whenever possible at trial.

Fraud Defense Attorney

Your federal crimes defense attorney should always consider the possibility of a trial, especially if you did not commit the alleged crime. LibertyBell Law Group attorneys have extensive experience in defending white-collar crime in state and federal courts across the country, in the most difficult jurisdictions, and with the most feared and ruthless prosecutors.

Types of Fraud

Fraud and dishonesty offenses vary from industry to industry, but they typically fall under the following categories:

Insurance Fraud: Insurance and government agencies can have you inspected for insurance fraud if they believe that you purposely injured yourself or damaged your insurer entity to file claims. Settle these issues as quickly as possible. Otherwise, the proceedings will compromise your future eligibility for any type of policy.
Automobile Insurance Fraud: Nothing's worse than getting investigated for auto insurance fraud after getting involved in a car accident. Leave the legalities to your attorney so that you can focus on recovering.
Health Care Insurance Fraud: Sketchy health care providers will quickly charge their clients with insurance fraud just to avoid approving claims. Ask your attorney to mitigate the process.
Unemployment Insurance (UI) Fraud: Avoid getting convicted for UI fraud. Not only will you face incarceration and pay hefty penalties, but you'll also end up forfeiting your future eligibility for unemployment compensation and tax refunds.
Welfare Fraud: With the rising cost of goods and lack of job opportunities, many Americans now find themselves unemployed. Their only hope for survival is welfare. To make matters worse, government agencies charge welfare fraud if they suspect that the applicant's only faking financial hardships.
Workers' Compensation Fraud: Many exploitative companies charge their employees with workers' compensation fraud when claiming insurance. They do this to avoid paying fines and eliminate injured employees. Entry-level associates and low-level workers will only have a shot at fighting back if they have adequate legal resources.

Real Estate and Mortgage Fraud

Here are the most common types of fraud that homebuyers, broker, property owners, and appraisers can get charged with:

Foreclosure Fraud: Property brokers and appraisers should always review their real estate paperwork. Omitting and misstating specific misinformation could lead to foreclosure fraud, especially if the underwriters assume that you were tricking them.
Financial Fraud: The term financial fraud is a broad term that encompasses various white-collar crimes like tax avoidance, skimming, ghost employees, and asset theft. Most of these are misdemeanors. However, the court can still charge you with a felony if they find that your actions were driven by malice.
Forgery and Identity Theft  : You could get charged with forgery and identity theft charges for using falsified records, even if the illegitimate papers belong to a client. As such, always scrutinize your clients' documents before processing them.
Elderly Fraud: If you work as a financial adviser or broker, your clients over 65 or their family members can charge you with financial fraud if you misappropriate use or distribute their funds. Unfortunately, many of these charges stem from misunderstandings. Rectify the situation right away before your other clients learn about the accusations against you.

White-collar defense cases can be won or lost depending on how through the pre-trial preparation was conducted. Your defense team must have the time, expertise, and resources to conduct a thorough investigation of your case

It is up to the prosecutor to prove the actual amount of the loss. With aggressive lawyers, along with their team of accountants and experts in the field, they can make all the difference in the world.

YOUR LIFE IS IN THE BALANCE

Apart from corporate ostracization and financial hardships, individuals convicted of fraud typically suffer depression and hopelessness post-incarceration. Most convicted professionals lose their entire careers. Unfortunately, not everyone has the resources or fortitude to recover from the repercussions following these charges.

As such, it would be best to minimize the charges right from the get-go. If you can reduce your sentence or plead innocent altogether, you'll have a better chance of bouncing back after the court proceedings and investigations.

Pre-trial preparation by top lawyers is the key to a successful white-collar defense . To get the best result in your case, criminal lawyers and experts need to have the experience and expertise to determine which records are relevant and analyze them for the development of facts. Our defense lawyers know how to make the best decision in fractions of a second during the trial and are experts in reading juries and the judge as to their reactions on both sides.

Fraud Attorney

Most white-collar criminals are tried in federal courts. Federal defense is different from what happens in state courts and requires criminal lawyers with experience in federal trials, agencies, and investigations. As a result of the recession, federal and white collar crimes are increasingly aggressively prosecuted. Lately, the courts are giving the harshest prison sentences to those convicted. If you suspect you may be charged or under investigation by the federal government, it is critical that you obtain an experienced team of the best criminal attorneys.

Prosecutors seek the most severe penalties in terms of imprisonment, restitution and fines. Federal courts also impose severe penalties. This can create a huge financial burden for the life of the accused. Even the indictment of a white collar crime, regardless of the evidence, can be detrimental to your professional reputation and future employment. It is because of the above that you need to hire the best criminal defense attorneys to protect you in court and in the eyes of society.

Getting convicted of white-collar crimes will turn your life upside down. Even after serving your sentence, there are very few chances of you getting your old job back—much less getting a promotion.

Very few companies would risk working with someone charged with corporate fraud. Your past accomplishments, educational background, and successful projects wouldn't hold a candle to white-collar crimes like embezzling funds or running Ponzi schemes .

It is extremely important to have an experienced team of lawyers to minimize penalties. Our attorneys have a history of obtaining satisfactory and favorable settlements, very low restitution payments and penalties, while also keeping the defendant out of federal prison. Learn about criminal attorneys in los angeles .

THE BEST Fraud Defense Lawyer

The best criminal attorneys know how to find gaps in the prosecutor's arguments, regardless of the position. Our lawyers or fraud lawyers are creative thinkers with sharp analytical skills. They know how to communicate effectively with jurors and judges. LibertyBell Law Group attorneys have the resources, the technology, and are the best in conducting complex litigation. You can be sure that you are getting the best trial attorneys.

The sole objective of our lawyers is to get the case dismissed or, if it is not achieved, to obtain the minimum charges. In the past, our lawyers have been competent in obtaining sentences well below mandatory minimum sentencing guidelines including fines. The complexity of the white collar defense creates many opportunities for favorable conviction negotiations that the lawyers at LibertyBell Law Group are experts at. Read more about federal crime attorney .

At LibertyBell Law Group, we have assembled the best team of white collar defense attorneys , experienced in state courts nationwide and federal trials. Our criminal defense attorneys have a history of success in white collar defense involving millions of dollars.
LEARN MORE ABOUT OUR CRIMINAL LAWYERS.
CALL OUR LAWYERS NOW
Early intervention is the key to our mutual success. Call us today at (855) 529-7761 for a free consultation with one of our criminal attorneys.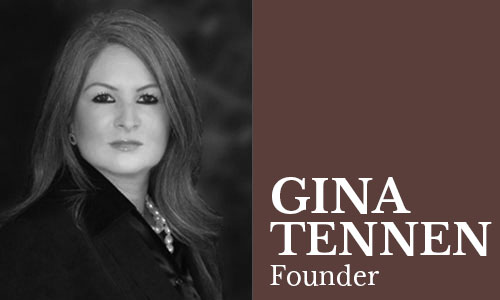 Gina Tennen
Founder
At A Glance
Expert legal strategist.
Experienced in both prosecution and defense.
Relentless fighter for her clients with results to prove it.
Received the National Top 100 Trial Lawyers Award
Featured in Time Magazine's "Leaders of Criminal Defense" in the 100 Most Influential People edition.
Executive Managing Attorney Gina Tennen is a renowned leading advocate of personal liberties. Her meticulous trial preparation and exceptional ability to pursue every possible defense has earned her the admiration of clients and respect from prosecutors, judges, and other criminal attorneys all over the nation.
Lawyer Tennen began her career as a Senior Law Clerk for one of the toughest District Attorney's offices in the country where she gained remarkable experience in juvenile crimes, elder abuse, parole hearings, child abuse, sex and other serious crimes. Her experience at the District Attorney's Office armed her knowledge and case strategy in exploiting the other side's weaknesses for the client's advantage and building a rock solid defense. Criminal attorney Tennen's experience on both sides and brilliant maneuvering throughout is evidenced in her winning track record. In fact, even before earning her law degree, she was instrumental in getting excellent results on several criminal cases outshining her peers.
A consummate strategist and top criminal attorney, lawyer Tennen works tirelessly on many high profile criminal cases. She is known as a relentless fighter who never gives up on any case. Whether the case is hers or handled by another criminal defense attorney from LibertyBell Law Group, no matter how small the case may seem she asserts that every client deserves the right to the best legal representation.
It is her deep belief and what she has built her entire career and lifelong dedication to that there is always hope for every client and every avenue should be pursued regardless of the time and energy it takes. For Los Angeles criminal lawyer, Gina Tennen, devoting the finest criminal defense for clients is a habit and talent that you must apply and do all the time.
You demand the best defense. Take hold of your life and speak to our defense attorneys by calling 855-LAW-PRO1 (855-529-7761) now.
Founder Gina Tennen and all the defense attorneys at LibertyBell Law Group uphold that when the bell rings, it rings for life and liberty for all.
REQUEST A FREE CONSULTATION
Gina was like a lioness protecting her cub.

    

I hired Gina and her team for my son who was facing 10 years for something they said he did when he was 17 years old. Gina was like a lioness protecting her cub. She did not stop. She fought hard and was able to defend the charges. We are so grateful to her and her team. They gave us our son. He recovered his life!
Best defense lawyers in the country.

    

I hired this law firm in 2014 for my son who was facing 16 years in prison for a felony robbery. Lina Helou answered all our questions. I was extremely distraught regarding what my son was facing but Lina comforted me and told me that it would be okay. And thank goodness LibertyBell saved my son from going to jail and they were able to obtain only 3 years of probation. I could not have hired a better law firm for my son and if you want the best defense call LibertyBell Law Group. Thank God for this great group of lawyers.
A great team of lawyers.

    

I do not have enough words to describe how incredible the experience with this firm was. They work very hard to make sure you have winning results. I could not have asked for better service from the moment I called, until my case was over. I was glad I made the right choice. Thank you again LibertyBell Law Group!
She took her time to review all of my evidence and proved my innocence.

    

My father had found this group through his company and coworkers. I was assigned Gina Tennen and I cannot explain in just a review on how gratefull I am to be working with her. My case was an accusation of unlawful sex. This had looked extremely bad on my part since I was in a fraternity and she was in a sorority. During these times with Greek life, there are too many bad stigmas surrounding these organizations. Gina had believed in me and knew that I was innocent and that these accusations just were not true. She took her time to review all of my evidence and proved my innocence. I totally recommend this law group because they are willing to put in the work to help your situation.
Gina always kept me fully aware of how the case was proceeding.

    

When I first heard I was under a criminal investigation, I initially thought I would try and resolve this in the best way possible, without legal representation, as we were all interested in a "just" outcome. I quickly discovered that was not the case and contacted Gina at LibertyBell. She clearly described the expectations and the choices available to me. She was always available to me, and when I called, if she couldn't talk with me at that time, she would quickly get back to me. Gina always kept me fully aware of how the case was proceeding. Her fee's were stipulated up front, as well as what those fees covered and what they did not.
Attorney Gina Tennen was on point from day one.

    

Attorney Gina Tennen was on point from day one putting pressure on the sherrif's office to get things handled. With Child molestation accusatinos being thrown around Gina and Attorney Castro were great at keeping the pressure on and had no charges filled. The DCFS indications were appealed and we won with flying colors. Great service, great work, and will use again for all legal matters.
Will Recommend, Total Experience, Awesome Team

    

Being involved in legal matters can be scary. When researching who to put my trust in, I came across Liberty and I am glad that I did. From the first time that I met with Gina and her team she made me feel comfortable and listened to all that I had to say. She assured me that her team would be on it and that they would do everything that they could! A little while in, Alan took over my case. When meeting with him you can tell that this is his passion and I immediately knew he was going to do everything in his power to make the outcome right! He was relentless and worked day and night working on the case. He kept in constant communication with me and truly cared not only about me but about my family as well. I am forever grateful for the support that this whole team has given me and would definitely recommend them to anyone who is looking for truly the best lawyers!