Anaheim Sexual Abuse Attorney
A sexual abuse attorney in Anheim, CA can help victims of sexual assault seek justice and compensation for their suffering. Sexual abuse is a serious crime and can have devastating physical, pain, emotional, and psychological or depression effects on its victims. An experienced attorney can help victims build a strong case and ensure they receive the compensation they deserve. If you have been a victim of sexual abuse, it is important to seek legal counsel from an experienced attorney who can advocate for your rights. Victims of sexual abuse often feel overwhelmed and confused, not knowing where to turn or who to trust. It is essential to find an attorney who is knowledgeable in the legal system and understands the complexities of sexual abuse cases. An experienced attorney can help victims understand the difficult legal process and provide them with the necessary resources to navigate the system. They can provide advice on the best course of action, as well as provide emotional support throughout the process. An experienced attorney can also help victims understand their rights, such as the right to a fair trial and the right to be heard. They can also provide legal advice on how to proceed with a case and make sure victims are aware of any applicable laws or statutes. If you or someone you know has been a victim of sexual assault and is in need of legal assistance, LibertyBell Law Group can provide experienced and compassionate representation from a qualified sexual assault attorney who will fight for your rights and ensure that justice is served.
Anaheim is a city located in Orange County , California, in the Los Angeles metropolitan area. Based on the U.S. Census of 2020, Orange County had a population of 346,824, making it the most populous city.
Apart from offering scenic tourist destinations, Anaheim also offers a business environment that is competitive and ideal for new businesses. Anaheim was founded as a charter city and became an industrial center for electronics, aircraft parts, and canned fruits.
Compared to the national average, Anaheim's crime rate is 22% higher. The violent crime rate in this bustling city is 9% lower than the average across all states. Experienced criminal defense attorneys at LibertyBell Law can represent you if you face a criminal charge.  No matter the severity of the charge, LibertyBell Law is here to help. Our team of experienced attorneys have a deep understanding of the law and can provide you with the best legal representation possible.
Find The Right Attorney To Handle Federal Crimes
Together with state and local officials, federal law enforcement officials often form strong prosecution teams in the U.S. There are powerful tools available to the federal government to prosecute a defendant criminally, and the government will not hesitate to do so.  The federal government has a wide range of tools at its disposal to bring criminal charges against individuals. The government has the power to investigate, subpoena witnesses, and bring criminal charges against individuals who are suspected of breaking the law.
It is possible to commit many federal crimes in Anaheim, such as those that involve the federal government, government-insured banks, the SEC , HUD , and even the Internet. Criminal prosecutions at the federal level most commonly involve drug trafficking, bank robbery, and Internet pornography.
The federal criminal defense process in Anaheim can be complex and daunting for several reasons:
Federal sentences are harsh, and no probation is provided.
Negotiation of a sentence is not permitted under the Federal Criminal Code.
A federal prosecutor or law enforcement official generally has more resources and experience than their counterparts at the state level.
Anaheim residents facing potential federal charges should be cautious. Agents with the federal government have likely already collected enough evidence against you to charge you with a crime. Investigations can last years or even decades.
The damages that may be incurred by a person as a result of a breach of the terms and conditions of this website can be significant and may include, but are not limited to, financial losses, reputational harm, and other non-economic losses. If these losses are not addressed, they may lead to a lawsuit, which could result in significant financial losses, reputational harm, and other non-economic losses for the parties involved.
Anaheim Defense Lawyers
Our group is committed to helping our clients reach a fair and equitable settlement in their legal matters, and we strive to ensure that our clients understand their rights and obligations in any settlement they may enter into. The LibertyBell Law Group is committed to protecting the rights of victims of abuse and to holding abusers accountable for their actions, and we are dedicated to providing legal services to those who have been wronged by abusers.
The incident in question has caused immense pain and suffering to those affected, and we are committed to providing legal assistance to those who have been wronged by abusers and to ensure that justice is served for the victims of this incident.
The victims of this incident have made claims that they have been wronged by abusers, and it is the responsibility of the legal system to investigate these claims and to ensure that justice is served for the victims.
At LibertyBell Law Group, we are committed to providing our clients with assistance and the best possible legal representation, and our team of experienced attorneys and legal representatives are dedicated to providing each client with personalized service and attention. Our team of experienced attorneys and legal representatives are committed to providing each client with individualized service and attention, as each representative strives to ensure that the client's needs are met in a timely and effective manner.
At LibertyBell Law Group, we take the utmost care to ensure that all client information is kept strictly confidential and secure, and we take all necessary steps to ensure that all communications between our clients and our attorneys remain confidential.
By the time you are charged, they already have the upper hand. This makes it important for you to immediately speak with a federal criminal defense lawyer in Anaheim, California. A team of experienced attorneys at LibertyBell Law Group can assist with your federal case.
 sex crime defense attorney sex crime defense attorney 
Choose The Best Defense Lawyers In Anaheim
An effective defense requires a smart strategy. The best way to combat federal agents' power is to develop strong strategies for your criminal defense team. Federal agents gather evidence using sophisticated investigative techniques, including interception of telephone calls, videotaping, espionage, and informants.
Anaheim Defense Lawyers
As a first step, you need an Anaheim criminal defense lawyer with significant experience practicing in criminal and federal courts. LibertyBell Law can assist you with well-trained, experienced, and responsive criminal defense attorneys.
Secondly, you should have more than one lawyer representing you. Federal agents usually have an advantage during the case preparation process, so your lawyers must step up quickly to level the playing field.
Our top-tier professional attorneys at LibertyBell Law Group operate in several cities across Southern California. Aside from Long Beach, we offer services in Santa Ana , Fullerton , Garden Grove , and more. Contact us today to get started with a free and private legal consultation by visiting our website.
Visitors to the LibertyBell Law Group website can easily contact the firm by submitting their information through the contact form, which is located on the Contact Us page and allows users to provide their name, email address, and a brief message regarding their inquiry.
Get-the-Best-Defense-from-California's-Top-Criminal-Defense-Attorneys Get-the-Best-Defense-from-California's-Top-Criminal-Defense-Attorneys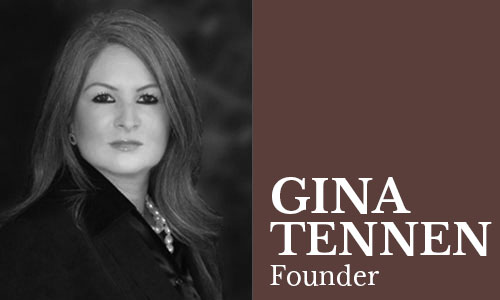 Gina Tennen
Founder
At A Glance
Expert legal strategist.
Experienced in both prosecution and defense.
Relentless fighter for her clients with results to prove it.
Received the National Top 100 Trial Lawyers Award
Featured in Time Magazine's "Leaders of Criminal Defense" in the 100 Most Influential People edition.
Executive Managing Attorney Gina Tennen is a renowned leading advocate of personal liberties. Her meticulous trial preparation and exceptional ability to pursue every possible defense have earned her the admiration of clients and respect from prosecutors, judges, and other criminal lawyers all over the nation. Lawyer Tennen began her career as a Senior Law Clerk for one of the toughest District Attorney's offices in the country where she gained remarkable experience in
juvenile crimes
, elder abuse, parole hearings, child abuse, sex crimes, and other serious crimes. Her experience at the District Attorney's Office armed her knowledge and case strategy in exploiting the other side's weaknesses for the client's advantage and building a rock solid defense.
Criminal defense attorney
 Tennen's experience on both sides and brilliant maneuvering throughout is evidenced in her winning track record. In fact, even before earning her law degree, she was instrumental in getting excellent results on several criminal cases outshining her peers. A consummate strategist and 
top criminal defense attorney
,
lawyer Tennen works tirelessly on many high profile criminal
cases. She is known as a relentless fighter who never gives up on any case. Whether the
case is hers or handled by another criminal
defense attorney from LibertyBell Law Group, no matter how small the case may seem she asserts that every client deserves the right to the best legal representation. It is her deep belief and what she has built her entire career and lifelong dedication to that there is always hope for every client and every avenue should be pursued regardless of the time and energy it takes.
Criminal defense attorney
, Gina Tennen, devoting the finest criminal defense for clients is a habit and talent that you must apply and do all the time. You demand the best defense. Take hold of your life and speak to our defense attorneys by calling 855-LAW-PRO1 (855-529-7761) now. Founder Gina Tennen and all the
criminal
defense
attorneys
 at LibertyBell Law Group uphold that when the bell rings, it rings for life and liberty for all.
REQUEST A FREE CONSULTATION
Gina was like a lioness protecting her cub.

    

I hired Gina and her team for my son who was facing 10 years for something they said he did when he was 17 years old. Gina was like a lioness protecting her cub. She did not stop. She fought hard and was able to defend the charges. We are so grateful to her and her team. They gave us our son. He recovered his life!
Best defense lawyers in the country.

    

I hired this law firm in 2014 for my son who was facing 16 years in prison for a felony robbery. Lina Helou answered all our questions. I was extremely distraught regarding what my son was facing but Lina comforted me and told me that it would be okay. And thank goodness LibertyBell saved my son from going to jail and they were able to obtain only 3 years of probation. I could not have hired a better law firm for my son and if you want the best defense call LibertyBell Law Group. Thank God for this great group of lawyers.
A great team of lawyers.

    

I do not have enough words to describe how incredible the experience with this firm was. They work very hard to make sure you have winning results. I could not have asked for better service from the moment I called, until my case was over. I was glad I made the right choice. Thank you again LibertyBell Law Group!
She took her time to review all of my evidence and proved my innocence.

    

My father had found this group through his company and coworkers. I was assigned Gina Tennen and I cannot explain in just a review on how gratefull I am to be working with her. My case was an accusation of unlawful sex. This had looked extremely bad on my part since I was in a fraternity and she was in a sorority. During these times with Greek life, there are too many bad stigmas surrounding these organizations. Gina had believed in me and knew that I was innocent and that these accusations just were not true. She took her time to review all of my evidence and proved my innocence. I totally recommend this law group because they are willing to put in the work to help your situation.
Gina always kept me fully aware of how the case was proceeding.

    

When I first heard I was under a criminal investigation, I initially thought I would try and resolve this in the best way possible, without legal representation, as we were all interested in a "just" outcome. I quickly discovered that was not the case and contacted Gina at LibertyBell. She clearly described the expectations and the choices available to me. She was always available to me, and when I called, if she couldn't talk with me at that time, she would quickly get back to me. Gina always kept me fully aware of how the case was proceeding. Her fee's were stipulated up front, as well as what those fees covered and what they did not.
Attorney Gina Tennen was on point from day one.

    

Attorney Gina Tennen was on point from day one putting pressure on the sherrif's office to get things handled. With Child molestation accusatinos being thrown around Gina and Attorney Castro were great at keeping the pressure on and had no charges filled. The DCFS indications were appealed and we won with flying colors. Great service, great work, and will use again for all legal matters.
Will Recommend, Total Experience, Awesome Team

    

Being involved in legal matters can be scary. When researching who to put my trust in, I came across Liberty and I am glad that I did. From the first time that I met with Gina and her team she made me feel comfortable and listened to all that I had to say. She assured me that her team would be on it and that they would do everything that they could! A little while in, Alan took over my case. When meeting with him you can tell that this is his passion and I immediately knew he was going to do everything in his power to make the outcome right! He was relentless and worked day and night working on the case. He kept in constant communication with me and truly cared not only about me but about my family as well. I am forever grateful for the support that this whole team has given me and would definitely recommend them to anyone who is looking for truly the best lawyers!
Anaheim Crime Data
15
(100 is safest)
---
Violent
Property
Total

Number of Crimes

1,242

8,880

10,122

Crime Rate
(per 1,000 residents)

3.58

25.60

29.18