Real Estate Fraud

Real estate fraud is a type of theft whereby individuals target weak spots in real estate transactions. Property fraud in California is increasing. In 2021, the national average for real estate crimes was 37%, in California, it was 39%. Law enforcement takes property crimes seriously, so if you're accused, you need an expert real estate defense attorney in California on your side.

In California, some laws against real estate fraud overlap with laws against mortgage loan applications. Laws cover fraud related to housing, rental agreements, mortgages, and foreclosures. Penalties include prison sentences, large fines, and restitution to the victim. 

The Legal Definition of Real Estate Fraud in California

Real estate fraud occurs when an individual commits fraudulent activities related to the purchase, sale, rental, and financing of real estate property. It's a crime under state and federal laws and carries stiff penalties.

In California, laws against residential and rental fraud fall under these factors below:

Theft by false pretenses

Foreclosure fraud

Rent skimming

Filing forged deeds or documents

Here's an example of theft by false pretenses and foreclosure fraud. John missed some mortgage payments and could lose his house. He responds to an ad for a company that specializes in helping people on the brink of foreclosure. The company assures John they can stall the foreclosure process and arrange a new payment schedule. All John needs to do is sign documents that authorize the company to act on his behalf. 

Unfortunately, John signs the deed that transfers ownership to the company, which owns John's home and any equity attached to it.

Real Estate Fraud in California is Charged Under:

Penal code 487 PC: Grand theft

Civil code 2945.4: Foreclosure fraud

Civil code 890: Rent skimming

Penal code 115 PC: Filing forged documents

Real Estate Fraud – When a Deal Turns Into a Crime

In most cases of fraud, transactions are legal and above board until the point after which activities become criminal. If you think you're in trouble, call a real estate fraud defense attorney in California.

Property fraud can be committed by buyers, sellers, real estate brokers, and mortgage providers.

Buyers

Buyer fraud relates to mortgage applications. Buyers provide accurate information, including name, social security number, address, etc. The fraud begins when they make false representations to secure the loan. 

For example:

Improving credit score

Exaggerating income

Minimizing debt

Providing false bank and/or tax statements

Sellers

Seller fraud relates to the condition of the home for sale. Real estate agents may honestly inform buyers about certain conditions; for example, the house needs painting. The fraud begins when real estate brokers intentionally omit conditions that are far more serious.

For example:

Not showing the full extent of the mold problem.

Falsifying inspection reports.

Lenders

Mortgage lenders increase a home's value to earn a higher commission. This is appraisal fraud and is often a joint effort by lenders, estate agents, and appraisers. Every aspect of the sales process is above board, except the advertised price.

What are the Types of Real Estate Fraud?

There are several real estate scams, the most common types include:

Foreclosure Fraud

We looked at foreclosure fraud above. Here are the three categories of crime.

Title transfer

– Property owners sign the title of the house to foreclosure consultants, who allow them to rent the home with a view to purchasing it. The consultant acquires the equity and could also sell the property from under the owner's feet. 

Bait and switch

– Homeowners are unaware that they've signed the title to a consultant who overwhelmed them with confusing paperwork.

Phantom help

– Consultants promise to help owners prevent closure, provided they settle the upfront payment. Consultants could disappear with the money.

Forged Documents or Deeds

Someone intentionally alters a property deed or provides a fake title deed to secure a loan or sell a property.

Rent Skimming

This rental scam occurs when landlords keep the proceeds from a rental property without paying the mortgage. It's also when someone falsely claims to own property that they rent out and keep all the proceeds. 

A single incidence of rent skimming is a civil matter, but several incidences are deemed criminal acts and are penalized accordingly. 

Straw Buyer

This occurs when someone asks someone with a good credit rating to buy property on their behalf. They are promised a fee which they'll receive upon transfer. The individual doesn't remit the loan payments, leaving the person in debt.

Predatory Lender

Loan brokers agree to refinance the loan plan but at inflated fees. Brokers play on borrowers' ignorance of property laws and transactions.

Common Forms of Real Estate Fraud in California

Real estate fraud prosecutors must prove five elements to gain a conviction.

Misrepresentation through deceit, concealment, or non-disclosure.

Knowledge of falsity

Intent to defraud

Justifiable reliance

Resulting damage

The intention is the crux of the crime. Some cases result from a genuine mistake. It's the intention that prosecutors must prove.

Intention's difficult to prove beyond a reasonable doubt. A good real estate fraud defense lawyer in Los Angeles will pick the prosecutor's argument apart.

Penalties for Real Estate Fraud

Penalties differ according to the type of real estate fraud as well as whether you're charged with a misdemeanor or felony crime.

Charges under Penal Code 487 PC grand theft can be a misdemeanor or felony. A misdemeanor sentence is up to one year in jail. A felony conviction comes with a three-year jail sentence.

Charges under Penal Code 115 PC filing forged documents are automatically a federal crime. You face up to three years in jail and a fine of up to $10,000.

Charges under Civil Code 890 rent skimming can be a misdemeanor or felony. It has the same penalties as grand theft.

Civil Code 2945.4 foreclosure fraud is a wobbler offense with the same penalties as grand theft. 

Fight Legal Charges with Our Real Estate Fraud Dense Attorney in California

Conviction of any white-collar crime casts a shadow over the rest of your life. Getting a job after serving time in jail is very difficult, especially if you want to continue in your line of work. This is why you need a LibertyBell Law Group real estate fraud defense lawyer by your side.

Our attorneys are skilled at keeping our clients out of federal prison and securing favorable settlements on their behalf. Your attorney is skilled at state and federal trials.

To book a free consultation, fill out our online form at LibertyBell Law Group today!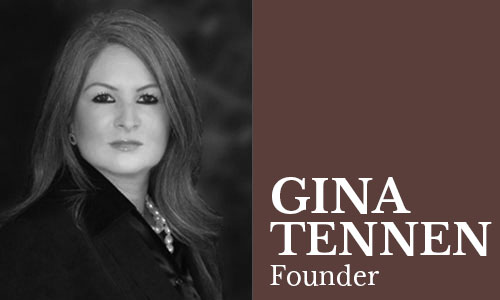 Gina Tennen
Founder
At A Glance
Expert legal strategist.
Experienced in both prosecution and defense.
Relentless fighter for her clients with results to prove it.
Received the National Top 100 Trial Lawyers Award
Featured in Time Magazine's "Leaders of Criminal Defense" in the 100 Most Influential People edition.
Executive Managing Attorney Gina Tennen is a renowned leading advocate of personal liberties. Her meticulous trial preparation and exceptional ability to pursue every possible defense has earned her the admiration of clients and respect from prosecutors, judges, and other criminal attorneys all over the nation.
Lawyer Tennen began her career as a Senior Law Clerk for one of the toughest District Attorney's offices in the country where she gained remarkable experience in juvenile crimes, elder abuse, parole hearings, child abuse, sex and other serious crimes. Her experience at the District Attorney's Office armed her knowledge and case strategy in exploiting the other side's weaknesses for the client's advantage and building a rock solid defense. Criminal attorney Tennen's experience on both sides and brilliant maneuvering throughout is evidenced in her winning track record. In fact, even before earning her law degree, she was instrumental in getting excellent results on several criminal cases outshining her peers.
A consummate strategist and top criminal attorney, lawyer Tennen works tirelessly on many high profile criminal cases. She is known as a relentless fighter who never gives up on any case. Whether the case is hers or handled by another criminal defense attorney from LibertyBell Law Group, no matter how small the case may seem she asserts that every client deserves the right to the best legal representation.
It is her deep belief and what she has built her entire career and lifelong dedication to that there is always hope for every client and every avenue should be pursued regardless of the time and energy it takes. For Los Angeles criminal lawyer, Gina Tennen, devoting the finest criminal defense for clients is a habit and talent that you must apply and do all the time.
You demand the best defense. Take hold of your life and speak to our defense attorneys by calling 855-LAW-PRO1 (855-529-7761) now.
Founder Gina Tennen and all the defense attorneys at LibertyBell Law Group uphold that when the bell rings, it rings for life and liberty for all.
REQUEST A FREE CONSULTATION
Gina was like a lioness protecting her cub.

    

I hired Gina and her team for my son who was facing 10 years for something they said he did when he was 17 years old. Gina was like a lioness protecting her cub. She did not stop. She fought hard and was able to defend the charges. We are so grateful to her and her team. They gave us our son. He recovered his life!
Best defense lawyers in the country.

    

I hired this law firm in 2014 for my son who was facing 16 years in prison for a felony robbery. Lina Helou answered all our questions. I was extremely distraught regarding what my son was facing but Lina comforted me and told me that it would be okay. And thank goodness LibertyBell saved my son from going to jail and they were able to obtain only 3 years of probation. I could not have hired a better law firm for my son and if you want the best defense call LibertyBell Law Group. Thank God for this great group of lawyers.
A great team of lawyers.

    

I do not have enough words to describe how incredible the experience with this firm was. They work very hard to make sure you have winning results. I could not have asked for better service from the moment I called, until my case was over. I was glad I made the right choice. Thank you again LibertyBell Law Group!
She took her time to review all of my evidence and proved my innocence.

    

My father had found this group through his company and coworkers. I was assigned Gina Tennen and I cannot explain in just a review on how gratefull I am to be working with her. My case was an accusation of unlawful sex. This had looked extremely bad on my part since I was in a fraternity and she was in a sorority. During these times with Greek life, there are too many bad stigmas surrounding these organizations. Gina had believed in me and knew that I was innocent and that these accusations just were not true. She took her time to review all of my evidence and proved my innocence. I totally recommend this law group because they are willing to put in the work to help your situation.
Gina always kept me fully aware of how the case was proceeding.

    

When I first heard I was under a criminal investigation, I initially thought I would try and resolve this in the best way possible, without legal representation, as we were all interested in a "just" outcome. I quickly discovered that was not the case and contacted Gina at LibertyBell. She clearly described the expectations and the choices available to me. She was always available to me, and when I called, if she couldn't talk with me at that time, she would quickly get back to me. Gina always kept me fully aware of how the case was proceeding. Her fee's were stipulated up front, as well as what those fees covered and what they did not.
Attorney Gina Tennen was on point from day one.

    

Attorney Gina Tennen was on point from day one putting pressure on the sherrif's office to get things handled. With Child molestation accusatinos being thrown around Gina and Attorney Castro were great at keeping the pressure on and had no charges filled. The DCFS indications were appealed and we won with flying colors. Great service, great work, and will use again for all legal matters.
Will Recommend, Total Experience, Awesome Team

    

Being involved in legal matters can be scary. When researching who to put my trust in, I came across Liberty and I am glad that I did. From the first time that I met with Gina and her team she made me feel comfortable and listened to all that I had to say. She assured me that her team would be on it and that they would do everything that they could! A little while in, Alan took over my case. When meeting with him you can tell that this is his passion and I immediately knew he was going to do everything in his power to make the outcome right! He was relentless and worked day and night working on the case. He kept in constant communication with me and truly cared not only about me but about my family as well. I am forever grateful for the support that this whole team has given me and would definitely recommend them to anyone who is looking for truly the best lawyers!