Carlsbad Defense Lawyers
About Carlsbad DUI Defense Lawyers
Carlsbad DUI Defense Lawyers is the premier defense firm for DUI in Carlsbad and the surrounding areas. Our legal team consists of experienced attorneys, investigators, and support staff who are dedicated to providing the highest quality representation for our clients. We have a track record of success in DUI cases and are committed to ensuring that our clients' rights are protected every step of the way.
Carlsbad is a beach community located in San Diego County , California. San Diego is 35 miles north of downtown Los Angeles and 87 miles south of downtown Los Angeles.  The golf industry is well established in Carlsbad, which is a popular tourist destination.
A DUI charge is a serious offense that can have long-lasting consequences, including fines, jail time, license suspension, and increased insurance premiums, so it is important to consult with an experienced DUI attorney if you have been charged with a DUI. If you have been charged with a DUI, it is important to consult with an experienced DUI attorney as soon as possible to ensure that your rights are protected and to explore all potential defenses to the charge, as a DUI conviction can have serious, long-term consequences.
DUI penalties can range from fines and license suspensions to jail time and even the installation of an ignition interlock device, depending on the severity of the offense and the state in which the offense was committed.
According to the city's 2020 census, it had 114,746 residents and a median household income of $123,409. Carlsbad was named the digital capital of California by Google in 2013 due to its robust online business community.
The primary industries in Carlsbad are information technology, video game industry, manufacturing, robotics, medical tools, life science, wireless technology, clean technology, action sports, tourism, design development, and real estate.
If you are looking for a firm that can provide you with reliable legal representation in Carlsbad, LibertyBell Law can assist you.
Carlsbad Sex Crime Defense Lawyers You Can Trust
There can be severe repercussions if you are accused of a sexual crime. Since sex offenders are registered for life, most sexual offenses cannot be settled through plea agreements. Successfully defending these sex crime cases requires a team of experienced sex crime attorneys .
Defense lawyers who specialize in sexual crime represent you in Carlsbad. Defendants benefit from lawyers researching their cases , finding possible defenses, and litigating on their behalf to receive the best results.
To defend our clients from sex crimes or sex offenses,  LibertyBell Law  uses a very specific set of techniques. For those charged with sex crimes, the defense strategy may be to claim that the alleged sexual act wasn't committed or to deny they were involved in the act. DNA evidence is typically necessary in such cases.
Your criminal defense lawyer may protect you from  sexual crime charges  , including:
We work with experts and private investigators to prove our client's innocence and provide aggressive defense to ensure our client's freedom.
 sex crime defense attorney sex crime defense attorney 
We Offer The Best Legal Representation At LibertyBell Law
Sex crime charges can be stressful and can lead to severe consequences, but your lawyer can assist you in determining how to proceed.
Many people charged with a sex crime are unable to obtain adequate defenses, resulting in life-altering consequences. LibertyBell Law Group, founded by defense lawyers who have experience arguing persuasively and winning sex crime cases, represents clients throughout the United States.
With the help of our sex crime defense lawyers , we leveled the playing field. Our sex crime attorneys have extensive experience handling challenging and sensitive cases at our firm.
We hire seasoned defense lawyers who possess all the tools necessary to achieve the best results for our clients accused of sex crimes.
Reviews of LibertyBell Law Group's services are available on their website, providing customers with an in-depth look at their services, customer service, and overall satisfaction ratings, helping them make an informed decision about whether or not to use their services.
LibertyBell Law offers services in several cities across California. Aside from Carlsbad, we also provide services in San Diego , Chula Vista , and more! For a free and confidential consultation, you can reach out to our experienced legal representatives through our website.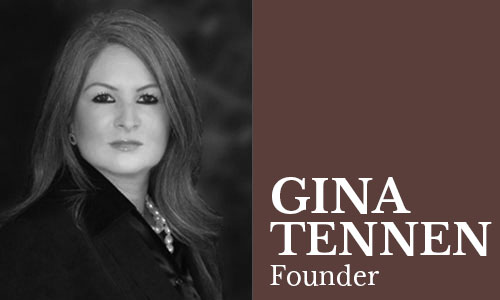 Gina Tennen
Founder
At A Glance
Expert legal strategist.
Experienced in both prosecution and defense.
Relentless fighter for her clients with results to prove it.
Received the National Top 100 Trial Lawyers Award
Featured in Time Magazine's "Leaders of Criminal Defense" in the 100 Most Influential People edition.
Executive Managing Attorney Gina Tennen is a renowned leading advocate of personal liberties. Her meticulous trial preparation and exceptional ability to pursue every possible defense have earned her the admiration of clients and respect from prosecutors, judges, and other criminal lawyers all over the nation. Lawyer Tennen began her career as a Senior Law Clerk for one of the toughest District Attorney's offices in the country where she gained remarkable experience in
juvenile crimes
, elder abuse, parole hearings, child abuse, sex crimes, and other serious crimes. Her experience at the District Attorney's Office armed her knowledge and case strategy in exploiting the other side's weaknesses for the client's advantage and building a rock solid defense.
Criminal defense attorney
 Tennen's experience on both sides and brilliant maneuvering throughout is evidenced in her winning track record. In fact, even before earning her law degree, she was instrumental in getting excellent results on several criminal cases outshining her peers. A consummate strategist and 
top criminal defense attorney
,
lawyer Tennen works tirelessly on many high profile criminal
cases. She is known as a relentless fighter who never gives up on any case. Whether the case is hers or handled by another criminal defense attorney from LibertyBell Law Group, no matter how small the case may seem she asserts that every client deserves the right to the best legal representation. It is her deep belief and what she has built her entire career and lifelong dedication to that there is always hope for every client and every avenue should be pursued regardless of the time and energy it takes.
Criminal defense attorney
, Gina Tennen, devoting the finest criminal defense for clients is a habit and talent that you must apply and do all the time. You demand the best defense. Take hold of your life and speak to our defense attorneys by calling 855-LAW-PRO1 (855-529-7761) now. Founder Gina Tennen and all the
criminal
defense attorneys at LibertyBell Law
Group uphold that when the bell rings, it rings for life and liberty for all.
REQUEST A FREE CONSULTATION
Gina was like a lioness protecting her cub.

    

I hired Gina and her team for my son who was facing 10 years for something they said he did when he was 17 years old. Gina was like a lioness protecting her cub. She did not stop. She fought hard and was able to defend the charges. We are so grateful to her and her team. They gave us our son. He recovered his life!
Best defense lawyers in the country.

    

I hired this law firm in 2014 for my son who was facing 16 years in prison for a felony robbery. Lina Helou answered all our questions. I was extremely distraught regarding what my son was facing but Lina comforted me and told me that it would be okay. And thank goodness LibertyBell saved my son from going to jail and they were able to obtain only 3 years of probation. I could not have hired a better law firm for my son and if you want the best defense call LibertyBell Law Group. Thank God for this great group of lawyers.
A great team of lawyers.

    

I do not have enough words to describe how incredible the experience with this firm was. They work very hard to make sure you have winning results. I could not have asked for better service from the moment I called, until my case was over. I was glad I made the right choice. Thank you again LibertyBell Law Group!
She took her time to review all of my evidence and proved my innocence.

    

My father had found this group through his company and coworkers. I was assigned Gina Tennen and I cannot explain in just a review on how gratefull I am to be working with her. My case was an accusation of unlawful sex. This had looked extremely bad on my part since I was in a fraternity and she was in a sorority. During these times with Greek life, there are too many bad stigmas surrounding these organizations. Gina had believed in me and knew that I was innocent and that these accusations just were not true. She took her time to review all of my evidence and proved my innocence. I totally recommend this law group because they are willing to put in the work to help your situation.
Gina always kept me fully aware of how the case was proceeding.

    

When I first heard I was under a criminal investigation, I initially thought I would try and resolve this in the best way possible, without legal representation, as we were all interested in a "just" outcome. I quickly discovered that was not the case and contacted Gina at LibertyBell. She clearly described the expectations and the choices available to me. She was always available to me, and when I called, if she couldn't talk with me at that time, she would quickly get back to me. Gina always kept me fully aware of how the case was proceeding. Her fee's were stipulated up front, as well as what those fees covered and what they did not.
Attorney Gina Tennen was on point from day one.

    

Attorney Gina Tennen was on point from day one putting pressure on the sherrif's office to get things handled. With Child molestation accusatinos being thrown around Gina and Attorney Castro were great at keeping the pressure on and had no charges filled. The DCFS indications were appealed and we won with flying colors. Great service, great work, and will use again for all legal matters.
Will Recommend, Total Experience, Awesome Team

    

Being involved in legal matters can be scary. When researching who to put my trust in, I came across Liberty and I am glad that I did. From the first time that I met with Gina and her team she made me feel comfortable and listened to all that I had to say. She assured me that her team would be on it and that they would do everything that they could! A little while in, Alan took over my case. When meeting with him you can tell that this is his passion and I immediately knew he was going to do everything in his power to make the outcome right! He was relentless and worked day and night working on the case. He kept in constant communication with me and truly cared not only about me but about my family as well. I am forever grateful for the support that this whole team has given me and would definitely recommend them to anyone who is looking for truly the best lawyers!
Carlsbad Crime Data
32
(100 is safest)
---
Violent
Property
Total

Number of Crimes

228

1,881

2,109

Crime Rate
(per 1,000 residents)

1.99

16.39

18.38