HAVE YOU BEEN ACCUSED OF:
MARIJUANA LAWS AND TICKETS
Though California law allows for the use of medical marijuana, U.S. attorneys and prosecutors may still charge you of a crime. State and federal laws on pot collide and without the best marijuana attorney you can be penalized, jailed, and suffer life-long consequences. You may lose your job, professional license, get evicted from your apartment, be automatically disqualified for Federal Student Loans and other federal programs and more. Defense attorneys know how grave Federal marijuana laws are and you must have a fierce defense lawyer, because if you are found guilty the penalty is very severe. Mandatory sentencing laws require a minimum of 85% of the sentence be served for serious marijuana offenses.
Marijuana laws are complex and constantly changing so you need an attorney with specialized knowledge in state and federal marijuana laws, including those that outline pro-visionary medical use. LibertyBell Law Group has several of the top defense attorneys in the nation that specialize in marijuana cases at the state and federal level. Our marijuana defense lawyers are always up to date on marijuana laws and recent legislative changes to both state and federal laws, not just in California, but in other states as well. Our lawyers have been expert commenters on talk shows and are highly sought after in big and highly complex federal drug cases because of their impressive track record. LibertyBell Law Group's defense attorneys are also leading advocates of civil rights and medical marijuana use and they seek to win for everyone, from the person that received a marijuana ticket to the full range of individuals facing dire federal penalties.
CALIFORNIA MARIJUANA TICKETS
In California, possessing the tiniest bit of pot can subject you to getting a marijuana ticket. A marijuana ticket or conviction of any kind in California may result in losing your professional license and have other disastrous consequences. It may also prevent you from getting a job in the future or being promoted, especially in conservative companies or larger corporations. If you get convicted on possession of marijuana while driving it is very likely you will be arrested for a DUI as well. Also, getting a marijuana ticket will may automatically disqualify from participating in federal programs, and it doesn't matter if it was for medical use or not. Furthermore, prosecutors may attempt to convict you with a felony possession with intent to sell if the police saw scales, cash, and address books, even with the smallest amount of marijuana.
Marijuana Cases must be defended by a Top Defense Attorney Dedicated to Fight for You
Regardless of the level of marijuana offense, you need a criminal attorney that can find fault in the investigation, arrest, paperwork, documentation and other matters of your case. Attorneys from LibertyBell Law Group have achieved successful dismissals and case rejections for many marijuana cases. Our defense attorneys have also successfully appealed many marijuana cases. Our aggressive marijuana defense attorneys know that when it comes to marijuana, whether medical cannabis or not, there are always issues to fight.
WHY ARE DEFENSE ATTORNEYS FROM LIBERTYBELL LAW GROUP THE BEST FOR MARIJUANA DEFENSE?
California marijuana laws are in constant flux and their federal counterparts are severe. Threats of prosecution by the Los Angeles County District Attorneys and U.S. Attorneys are real. LibertyBell Law Group has assembled a team of the best, most experienced, and aggressive marijuana defense attorneys to represent and fight for your legal rights regarding possession of marijuana, medical marijuana dispensaries and businesses in Los Angeles, California, and all 50 states.
Immediate action by an attorney is a must to insure the best possible defense – even if you have yet to be charged and even if you believe you are in compliance with California law. Our criminal lawyers know, through experience, that many owners and managers of medical marijuana dispensaries are not in compliance with California medical marijuana laws. If you have been questioned or if you have been told an investigator wants to speak with you, it is imperative that you call and speak to our experienced defense attorneys first.
At LibertyBell Law Group, our defense lawyers and cannabis experts work as a TEAM to strategize and implement the best legal defense fitted to your particular needs to achieve the best result possible. Our skilled and experienced criminal attorneys know how to implement techniques on a case by case basis that have proven successful for many individuals facing a full range of charges from extremely serious to misdemeanor offenses. Remember, not only is your business or personal life at risk, but your future is at stake as well.
If you are an owner or manager of a medical marijuana dispensary, or you cultivate, transport or possess marijuana for medical purposes with a physician's recommendation (often referred to as a medical marijuana card or prescription), call LibertyBell Law Group's criminal lawyers NOW to defend and protect your rights!
CALIFORNIA MEDICAL MARIJUANA LAWS
Under The Compassionate Use Act and The Medical Marijuana Program Act (more commonly referred to as Senate Bill 420), people in California may legally cultivate, transport and possess marijuana for medical purposes when they have a physician's recommendation (often referred to as a medical marijuana card or prescription). However, Federal and California Medical Marijuana laws have not stopped local and federal law enforcement agencies from prosecuting people who are legally allowed to possess marijuana for medical purposes within their state.
California Medical Marijuana laws authorize "qualified patients," "primary care givers" and "collectives and cooperatives" to possess and use marijuana in the amount specified by law, medical marijuana laws do not afford the protected class of people specified above to be free from arrest and criminal prosecution. Even if you are in strict compliance with the California Medical Marijuana laws, you are still subject to arrest and prosecution for transportation, distribution, cultivation, trafficking, sale, and possession of marijuana. Therefore, it is extremely important to have an aggressive and skilled marijuana defense attorney in your corner!
Although medical marijuana is legal in California, federal law still prohibits the transportation, distribution, cultivation, trafficking, sale and possession of marijuana for any purpose. Therefore, even if you strictly comply with California's Medical Marijuana laws, you are still subject to arrest and prosecution by the federal government and U.S. attorneys (prosecutors). Under federal law there are mandatory prison sentence minimums that a judge must follow if you are convicted. LibertyBell Law Group's federal attorneys are experienced and skilled in handling all state and federal drug charges and know how to argue the law under the federal sentencing guidelines. State and federal marijuana cases require skilled and aggressive criminal attorneys who are knowledgeable about state and federal marijuana laws and the often complex and confusing federal sentencing guidelines.
MEDICAL MARIJUANA DISPENSARIES, COLLECTIVES AND COOPERATIVES
Under California Health & Safety Code 11362.775, qualified patients and primary caregivers may associate "collectively or cooperatively" to cultivate medical marijuana to meet their collective medicinal needs.
A medical marijuana collective or cooperative must strictly adhere to the California Medical Marijuana laws spelled out in The Compassionate Use Act and The Medical Marijuana Program Act as well as the ever changing case law. In order to comply with the requirements of California's Medical Marijuana laws it is highly recommended that you contact an experienced, qualified and aggressive attorney that can advise you how to properly run and operate a collective or cooperative.
Failure to follow proper procedure when operating a medical marijuana dispensary, collective or cooperative could result in your business being shut down and criminal charges being filed against you. If you own or manage a medical marijuana collective or cooperative you could be charged with transportation, distribution, cultivation, sales and possession of marijuana.
LEARN MORE ABOUT OUR CRIMINAL ATTORNEYS
CALL OUR CRIMINAL ATTORNEYS NOW
As a client, you can now draw on the combined talents and resources of a large law firm with one goal — getting the best possible result for your case. We stand ready to defend you both inside and outside the courtroom.
Call us now at 855-LAW-PRO1 (855-529-7761) for a free consultation with one of our criminal attorneys. Early intervention is the key to our mutual success.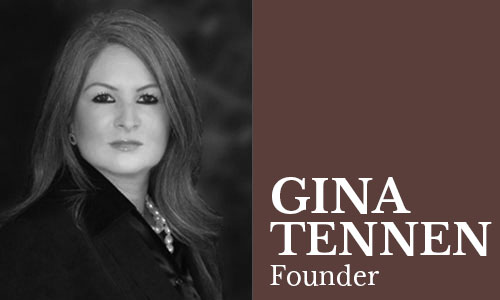 Gina Tennen
Founder
At A Glance
Expert legal strategist.
Experienced in both prosecution and defense.
Relentless fighter for her clients with results to prove it.
Received the National Top 100 Trial Lawyers Award
Featured in Time Magazine's "Leaders of Criminal Defense" in the 100 Most Influential People edition.
Executive Managing Attorney Gina Tennen is a renowned leading advocate of personal liberties. Her meticulous trial preparation and exceptional ability to pursue every possible defense has earned her the admiration of clients and respect from prosecutors, judges, and other criminal attorneys all over the nation.
Lawyer Tennen began her career as a Senior Law Clerk for one of the toughest District Attorney's offices in the country where she gained remarkable experience in juvenile crimes, elder abuse, parole hearings, child abuse, sex and other serious crimes. Her experience at the District Attorney's Office armed her knowledge and case strategy in exploiting the other side's weaknesses for the client's advantage and building a rock solid defense. Criminal attorney Tennen's experience on both sides and brilliant maneuvering throughout is evidenced in her winning track record. In fact, even before earning her law degree, she was instrumental in getting excellent results on several criminal cases outshining her peers.
A consummate strategist and top criminal attorney, lawyer Tennen works tirelessly on many high profile criminal cases. She is known as a relentless fighter who never gives up on any case. Whether the case is hers or handled by another criminal defense attorney from LibertyBell Law Group, no matter how small the case may seem she asserts that every client deserves the right to the best legal representation.
It is her deep belief and what she has built her entire career and lifelong dedication to that there is always hope for every client and every avenue should be pursued regardless of the time and energy it takes. For criminal attorney, Gina Tennen, devoting the finest criminal defense for clients is a habit and talent that you must apply and do all the time.
You demand the best defense. Take hold of your life and speak to our defense attorneys by calling 855-LAW-PRO1 (855-529-7761) now.
Founder Gina Tennen and all the defense attorneys at LibertyBell Law Group uphold that when the bell rings, it rings for life and liberty for all.
Diana Ivanova
Criminal Defense Attorney & Director of Client Affairs
Los Angeles
Criminal Defense Attorney Diana Ivanova is an Associate at LibertyBell Law Group, who specializes in complex criminal matters in state and federal courts
nationwide.
Ms. Ivanova's aggressive defense of her clients' freedoms and rights has earned her a reputation as both a zealous and successful criminal defense trial attorney in all criminal defense matters. She provides tenacious representation in both state and federal courts for those facing serious charges of sex crimes, federal violations, drug crimes, homicide, violence, white-collar crime, DUI and more. Ms. Ivanova has also successfully litigated some of the largest violence crimes in Los Angeles.
Even if an arrest has been made, Ms. Ivanova focuses on getting charges dropped before formal charging in court. It is important for a criminal defense professional to intervene early and aggressively, as she does.
Ms. Ivanova is a member of multiple legal associations. In addition to being a tough and fearless advocate in criminal defense cases, she genuinely cares about her clients and fights each case with unparalleled skill and determination to obtain the best possible outcome.
Call 855-LAW-PRO1 (855-529-7761) to speak to Diana now. You may also email her at info@LibertyBellLaw.com.

REQUEST A FREE CONSULTATION
Gina was like a lioness protecting her cub.

    

I hired Gina and her team for my son who was facing 10 years for something they said he did when he was 17 years old. Gina was like a lioness protecting her cub. She did not stop. She fought hard and was able to defend the charges. We are so grateful to her and her team. They gave us our son. He recovered his life!
Best defense lawyers in the country.

    

I hired this law firm in 2014 for my son who was facing 16 years in prison for a felony robbery. Lina Helou answered all our questions. I was extremely distraught regarding what my son was facing but Lina comforted me and told me that it would be okay. And thank goodness LibertyBell saved my son from going to jail and they were able to obtain only 3 years of probation. I could not have hired a better law firm for my son and if you want the best defense call LibertyBell Law Group. Thank God for this great group of lawyers.
A great team of lawyers.

    

I do not have enough words to describe how incredible the experience with this firm was. They work very hard to make sure you have winning results. I could not have asked for better service from the moment I called, until my case was over. I was glad I made the right choice. Thank you again LibertyBell Law Group!
She took her time to review all of my evidence and proved my innocence.

    

My father had found this group through his company and coworkers. I was assigned Gina Tennen and I cannot explain in just a review on how gratefull I am to be working with her. My case was an accusation of unlawful sex. This had looked extremely bad on my part since I was in a fraternity and she was in a sorority. During these times with Greek life, there are too many bad stigmas surrounding these organizations. Gina had believed in me and knew that I was innocent and that these accusations just were not true. She took her time to review all of my evidence and proved my innocence. I totally recommend this law group because they are willing to put in the work to help your situation.
Gina always kept me fully aware of how the case was proceeding.

    

When I first heard I was under a criminal investigation, I initially thought I would try and resolve this in the best way possible, without legal representation, as we were all interested in a "just" outcome. I quickly discovered that was not the case and contacted Gina at LibertyBell. She clearly described the expectations and the choices available to me. She was always available to me, and when I called, if she couldn't talk with me at that time, she would quickly get back to me. Gina always kept me fully aware of how the case was proceeding. Her fee's were stipulated up front, as well as what those fees covered and what they did not.
Attorney Gina Tennen was on point from day one.

    

Attorney Gina Tennen was on point from day one putting pressure on the sherrif's office to get things handled. With Child molestation accusatinos being thrown around Gina and Attorney Castro were great at keeping the pressure on and had no charges filled. The DCFS indications were appealed and we won with flying colors. Great service, great work, and will use again for all legal matters.
Will Recommend, Total Experience, Awesome Team

    

Being involved in legal matters can be scary. When researching who to put my trust in, I came across Liberty and I am glad that I did. From the first time that I met with Gina and her team she made me feel comfortable and listened to all that I had to say. She assured me that her team would be on it and that they would do everything that they could! A little while in, Alan took over my case. When meeting with him you can tell that this is his passion and I immediately knew he was going to do everything in his power to make the outcome right! He was relentless and worked day and night working on the case. He kept in constant communication with me and truly cared not only about me but about my family as well. I am forever grateful for the support that this whole team has given me and would definitely recommend them to anyone who is looking for truly the best lawyers!